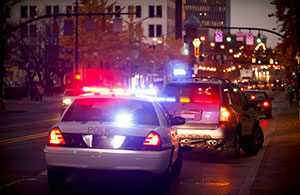 The Law Offices of Eric T. Perry represents Illinois clients charged with violations of the Illinois Vehicle Code, including DUI's, Driving During Revocation/Suspension, Illegally Transporting Alcohol and many other offensives. In our area, DUI's are high priority enforcement offenses and prosecuted aggressively. Driving under the Influence, DUI, or DWI in some jurisdictions, carry with them the possibility of severe penalties especially Felony DUI and Felony Driving while Suspended/Revoked.
Our aggressive attorneys can represent you in Cook County Courts, including Chicago, Skokie, Rolling Meadows, Maywood, Bridgeview and Markham, Lake County Courts, including Waukegan, Grayslake, Round Lake Beach and Mundelein, DuPage County, including Wheaton, Downer's Grove, Addison and Glendale Heights.
Illinois traffic tickets, including DUI's, Reckless Driving, Improper Lane Usage, Failure to Yield, Speeding in a School or Construction Zone carry with them possible loss of driving privileges and increased insurance rates. Experienced Illinois DUI and Traffic lawyers can help minimize or prevent the penalties the State will be seeking.
If you've been arrested or issued a traffic citation, the earlier you contact and retain an attorney, the more options you have for a positive resolution. Call the Law Offices of Eric T. Perry for a free consultation and evaluation of your case.