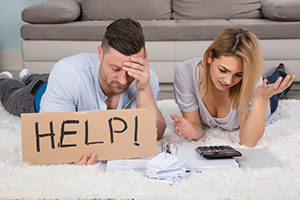 Your home is under water.
Those annoying creditor calls won't stop.
You have medical bills that can never be paid back.
Wage garnishment served on your employer.
You get a visit from a process server informing you that you are being sued.
Your auto insurance lapsed and you got in an accident and now your driver's license is suspended, or about to be.
You lost your job and the bills you were just managing to pay are now out of reach.
You've tried debt consolidation and now owe more then ever.
THERE IS HELP. THERE IS A LIGHT AT THE END OF THE TUNNEL. YOU CAN ENJOY LIFE AGAIN.
Chapter 7 type bankruptcy may be the answer. It is sometimes referred to as "straight bankruptcy." It is the most common type of bankruptcy.
It is designed to help people get a fresh start, to start over, to give individual consumers and families a chance for a new beginning financially. A chapter 7 stops collection calls, stops wage garnishments, stops law suits and allows you to breathe. Most debts are wiped with the exception of some student loans, some taxes, some fines to government entities and some secured debts.
Unless you have very expensive personal property, too much equity in your home, or you make too much money, a Chapter 7 can rid you of your unsecured debts. You are allowed to keep all exempt personal property and even your house in many cases, depending on your equity and whether you are current on your payments.
An experienced bankruptcy attorney can evaluate your financial situation and determine what your options may be. If you make too much, or have non-exempt property, you may benefit from a Chapter 13, which is a payment plan to your creditors, paying them some percentage of what is owned.
The most important phone call you can make, is to an experienced bankruptcy attorney. We can stop creditor harassment, stop the phone calls, stop the garnishment and help you re-establish credit and live in peace.